Graded impact grinding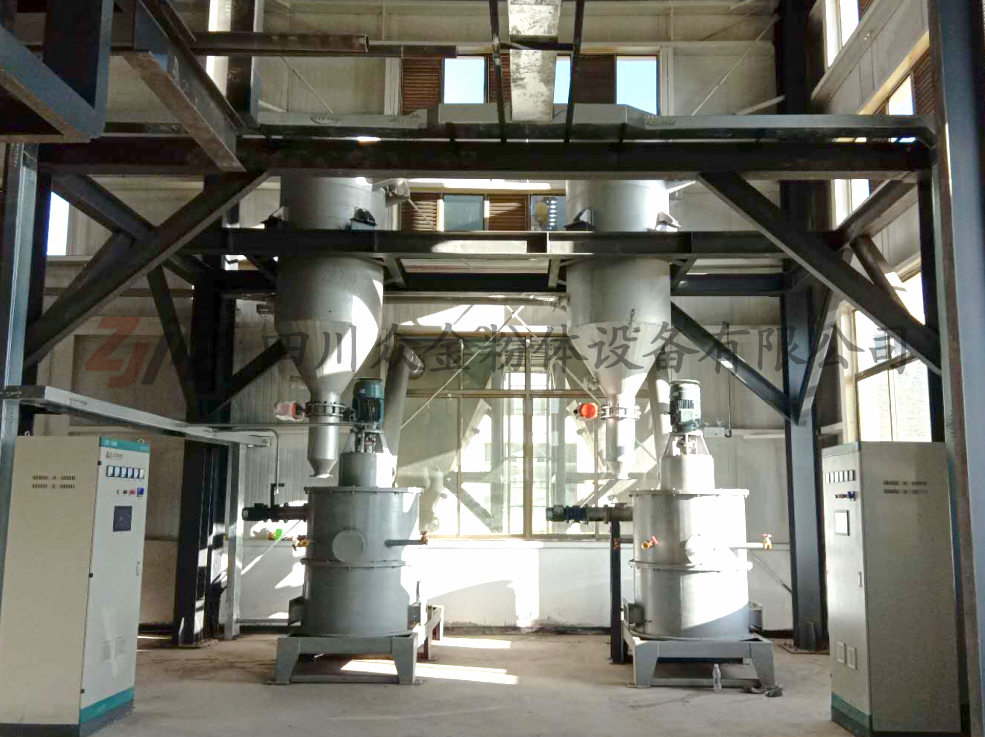 The working principle of:
The material is transported from the feeding device to the crushing chamber of the main machine. The material and high-speed rotary devices and particles impact, collide, rub, cut and squeeze each other to achieve crushing. The crushed material can be separated by the grading wheel, the coarse powder flows into the crushing chamber for grinding again, and the purified gas is discharged by the induced draft fan.
Characteristics of the equipment:
1, low energy consumption: set centrifugal crushing, impact crushing, extrusion crushing in one, than other types of mechanical grinder energy saving up to 40 ~ 50%.
2. High fineness: equipped with self-dividing flow grading system, the product fineness 2500 mesh.
3. Large feeding range: the feeding particle size is 50mm, and the material only needs to pass through the first-level rough breaking equipment.
4. Low wear: comminution of wearing parts is made of new composite wear-resistant materials with long service life and no pollution when processing materials with mohs hardness less than or equal to 5.
5, strong mechanical stability: long-term 24 hours non-stop production.
6. Full functions:
It can crush needle-like materials to achieve the finished length-diameter ratio of 15:1;
The grinding process has no temperature rise and is suitable for the grinding of heat-sensitive materials.
The particle size recovery rate can be up to 100%.
It has the function of particle shaping and effectively improves the packing density.
Materials capable of crushing fibrous tissue;
It can crush the material with high moisture content and has the function of drying.
Can crush the material with strong viscosity.
7, negative pressure production, no dust pollution, excellent environment.
8. High degree of automation, strong stability and easy operation.
9. The whole system adopts automatic control, which can realize one-key start and stop, simple and convenient operation and connection with central control can realize remote control.
The process flow: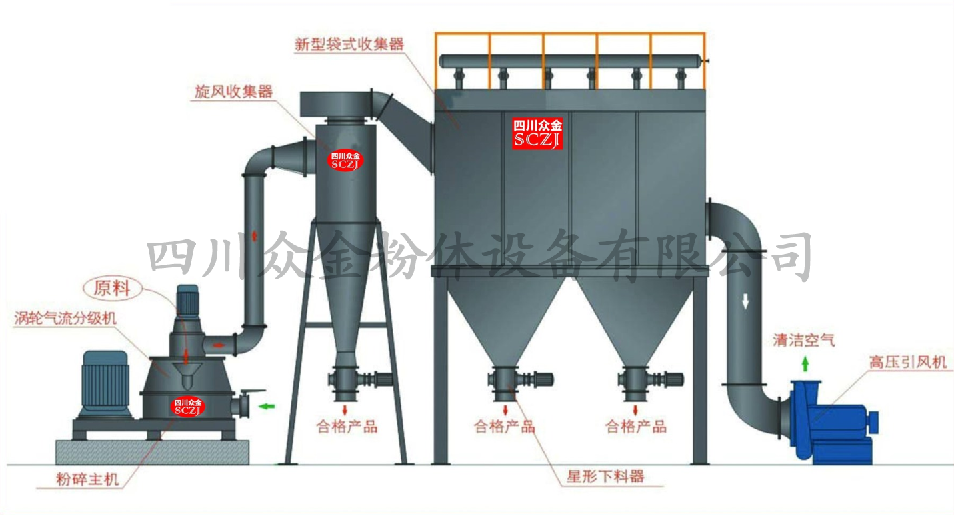 Scope of application:
1. Typical non-metallic materials include:
Ultra-fine grinding of hard kaolin, talc, graphite, calcite, gypsum, diatomaceous earth, wollastonite, barite, pyrophyllite, aluminum hydroxide and ultra-fine grinding and dispersion of nanometer calcium carbonate, cerium oxide and other materials.
2. Typical heat-sensitive materials:
Lactose, wax, colophony, adipose, bone meal, plant
3. Typical ultra-fine processing materials of Chinese herbal medicine and raw materials include:

Pollen, hawthorn, mushroom, pearl powder, stomach medicine, nimodipine, antibiotics, ganoderma lucidum, Chinese gallnut, polygonum multiflorum, andrographis paniculata, mint, houttuynia cordata, fern root, kudzu root, isatidis root, etc.

Main technical parameters

Application of the scene: