Special stainless steel grinder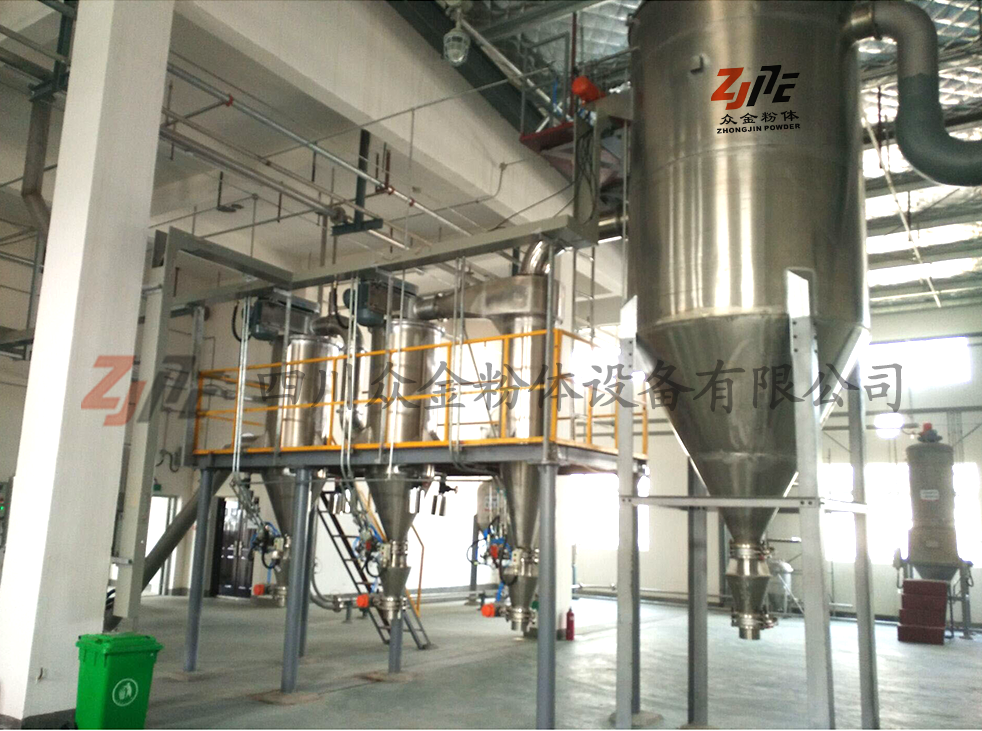 Stainless steel features:
Stainless Steel (Stainless Steel) is short for acid-proof Stainless Steel, resistant to weak corrosive medium such as air, steam, water, or with a Stainless Steel grade is called Stainless Steel; And the chemical corrosion resistant medium (acid, alkali, salt and other chemical corrosion) corrosion of steel is called acid resistant steel. It has the characteristics of strong toughness, large plasticity and high expansion coefficient

Use of stainless steel powder:

Mainly used for maintenance paint, heat and durability paint, stainless steel flake paint in decorative paint can produce a very attractive natural metal color. It is widely used in the surface finishing of aluminum castings, copper and zinc castings, sandblasting and polishing of various metal surfaces, deburring and burring of casting workpieces, sandblasting and polishing of blade surfaces and casting products. It can make your products smooth, bright and white.

Equipment selection:

According to the material characteristics of stainless steel, it is recommended to choose airflow crusher for crushing processing

Application model:

What ZJ had - QLM series

Working principle:

ZJ series ultra-fine and ultra-micro air flow crusher USES several relatively arranged nozzles to form high-speed air flow, and then USES high-speed air flow to accelerate materials to supersonic speed and make them collide with each other at the intersection of nozzles, so as to achieve the purpose of ultra-fine grinding. Crushed material into the classifier classification chamber with the increased flow, due to the grading rotor high-speed rotation, is constrained by the particle grading rotor produced by centrifugal force, and by airflow, and the centrifugal force generated by viscous, when particles by centrifugal force is greater than the centripetal force, the grading size more than coarse particle crushing chamber to continue to shock crushing, fine particles with the air flow in cyclone separator, the trap to collect, the gas is removed by induced draft fan.

ZJ series airflow crusher is the replacement of traditional fluidized bed airflow crusher, jet airflow crusher, horizontal airflow crusher and other types of airflow crusher. The best characteristic of this machine is to make full use of jet energy.

Process flow: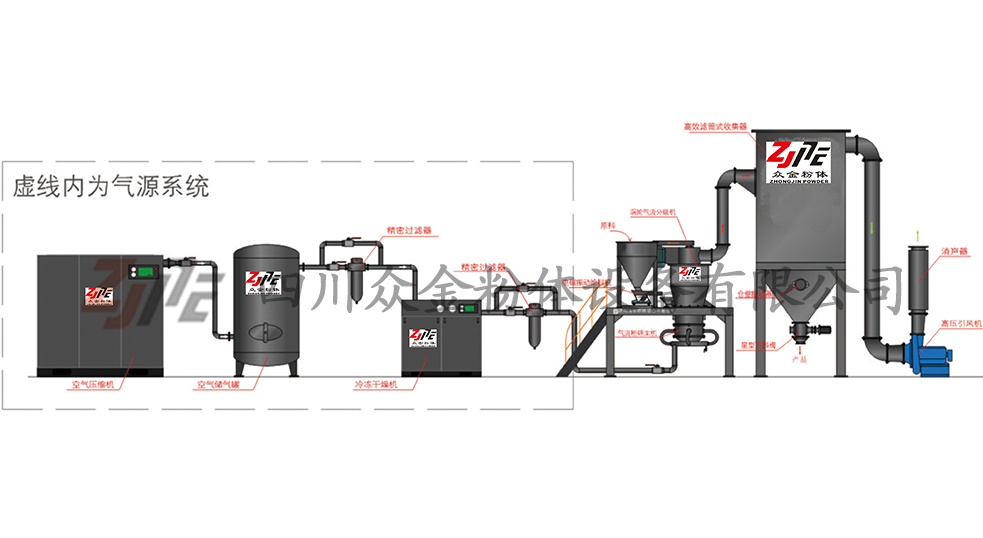 Equipment features:
1. Green and environmental protection: low-temperature dielectric pulverization ensures high purity and physical characteristics of the product. The equipment operates under negative pressure without dust pollution

2, high efficiency: the full use of jet energy, compared with the traditional airflow mill grinding efficiency of 30%, classification accuracy is higher.

3, equipment wear small: "fluidized bed + vertical classifier" structure can be high purity, ultra-narrow processing of ultrafine powder, avoid the "fluidized bed + horizontal classifier" classification part of the wear, in the same material wearing parts of the service life is 20 times the international similar products. Minimal wear, especially suitable for ultra-fine grinding of high purity and hardness materials.

4. High output: when producing products with narrow particle size distribution, the yield is more than 1 times higher than that of traditional convection jet and fluidized bed airflow crusher.

5, multi-purpose: a multi-purpose machine, can be used as a crusher can also be used as a classifier. The particle size range of grinding is wide, and the particle size can be adjusted in the range of 1-74um at will.

6, intelligent: the equipment can achieve all automatic control, simple operation, stable operation, excellent production environment.

7. Reasonable design: compact structure of the equipment, no material storage, no dead space in the crushing machine, easy to disassemble and wash, disinfect, and convenient to replace crushed materials.

8. The whole system adopts automatic control, which can realize one-key start and stop, simple and convenient operation and connection with central control can realize remote program control

Scope of application:

This series of crushing classifier with its unique working principle can be dry, high purity, low temperature processing various materials such as super fine powder, widely used in chemical, mining, abrasive, battery materials, refractory materials, non-metallic mineral, metallurgy, building materials, pharmaceuticals, food, pesticides, feed, new materials, environmental protection and other industries and dispersion of ultrafine crushing, all kinds of dry powder materials and plastic particles.

Typical materials:

Silicon carbide, garnet, ceramic corundum, boron carbide, diamond, tungsten carbide, ferrophosphorus; Calcium carbonate, quartz, diatomite, calcium hydrogen, bentonite, talc, mica, wollastonite, high purity pigment, luminous powder, mobile phone battery powder; Pollen, auxin, food additives, antibiotics, imaging drugs, ganoderma lucidum, pearl powder; Insecticide, teflon.

Main technical parameters:

设备型号

Model

耗气量

Air flow

空气压力

air pressure

最大入料粒度

Max feed Size

成品细度

Product Size

生产能力

Capacity

装机功率

Power

ZJ-QLM50

1 m3/min

0.7-1 Mpa

<1 mm

0.2-200um

0.2-5kg/h

9.5kw

ZJ-QLM100

3 m3/min

0.7-1 Mpa

<3 mm

0.2-200um

5-20kg/h

26kw

ZJ-QLM200

6 m3/min

0.7-1 Mpa

<3 mm

0.2-200um

20-90kg/h

47kw

ZJ-QLM300

10 m3/min

0.7-1 Mpa

<3 mm

0.2-200um

30-150kg/h

79kw

ZJ-QLM400

20 m3/min

0.7-1 Mpa

<3 mm

0.2-200um

60-600kg/h

137kw

ZJ-QLM600

40 m3/min

0.7-1 Mpa

<3 mm

0.2-200um

100-900kg/h

290kw
Application of the scene: