Ferrosilicon special crusher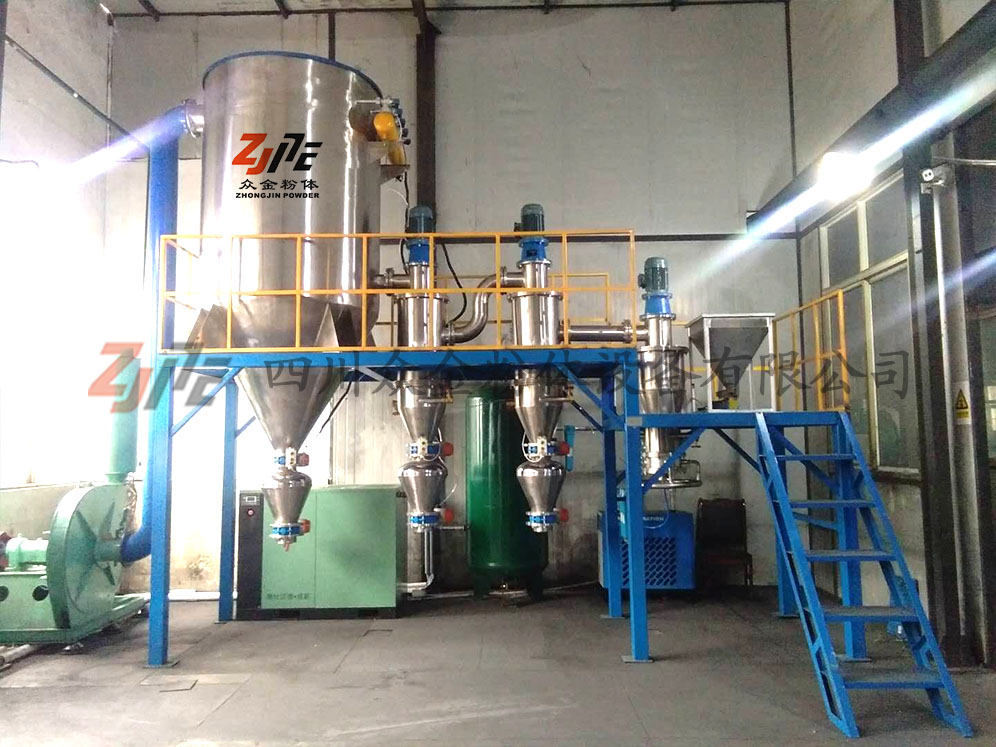 Metallic silicon characteristic:
Ferrosilicon is an alloy of iron and silicon. Ferrosilicon is an alloy of iron and silicon made from coke, steel chips, quartz (or silica) and smelted in an electric furnace.
Use of ferrosilicon powder:
1Used as deoxidizer and alloy agent in steelmaking industry.
2Used as inoculant and spheroidizer in iron casting industry.

3Used as reducing agent in ferroalloy production.

4For other purposes. Ground or atomized silica iron powder can be used as suspension phase in mineral processing industry

Equipment selection:
According to the material characteristics of ferrosilicon, it is recommended to choose airflow crusher for grinding processing
The application type:
What ZJ had - QLM series
The working principle of:
ZJ series ultra-fine and ultra-micro air flow crusher USES several relatively arranged nozzles to form high-speed air flow, and then USES high-speed air flow to accelerate materials to supersonic speed and make them collide with each other at the intersection of nozzles, so as to achieve the purpose of ultra-fine grinding. Crushed material into the classifier classification chamber with the increased flow, due to the grading rotor high-speed rotation, is constrained by the particle grading rotor produced by centrifugal force, and by airflow, and the centrifugal force generated by viscous, when particles by centrifugal force is greater than the centripetal force, the grading size more than coarse particle crushing chamber to continue to shock crushing, fine particles with the air flow in cyclone separator, the trap to collect, the gas is removed by induced draft fan.
ZJ series airflow crusher is the replacement of traditional fluidized bed airflow crusher, jet airflow crusher, horizontal airflow crusher and other types of airflow crusher. The best characteristic of this machine is to make full use of jet energy.

The process flow: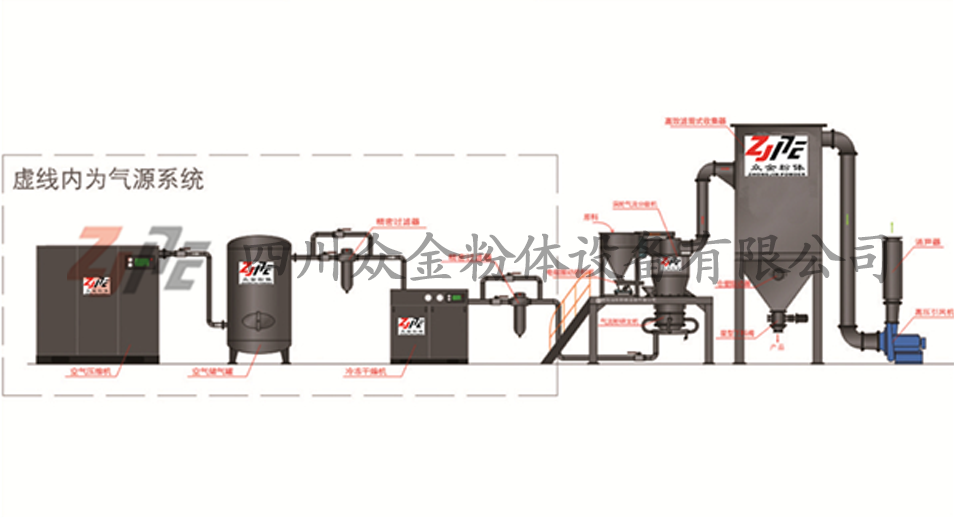 Characteristics of the equipment:
1. Green and environmental protection: low-temperature dielectric pulverization ensures high purity and physical characteristics of the product. The equipment operates under negative pressure without dust pollution
2, high efficiency: the full use of jet energy, compared with the traditional airflow mill grinding efficiency of 30%, classification accuracy is higher.

3, equipment wear small: "fluidized bed + vertical classifier" structure can be high purity, ultra-narrow processing of ultrafine powder, avoid the "fluidized bed + horizontal classifier" classification part of the wear, in the same material wearing parts of the service life is 20 times the international similar products. Minimal wear, especially suitable for ultra-fine grinding of high purity and hardness materials.

4. High output: when producing products with narrow particle size distribution, the yield is more than 1 times higher than that of traditional convection jet and fluidized bed airflow crusher.

5, multi-purpose: a multi-purpose machine, can be used as a crusher can also be used as a classifier. The particle size range of grinding is wide, and the particle size can be adjusted in the range of 1-74um at will.

6, intelligent: the equipment can achieve all automatic control, simple operation, stable operation, excellent production environment.

7. Reasonable design: compact structure of the equipment, no material storage, no dead space in the crushing machine, easy to disassemble and wash, disinfect, and convenient to replace crushed materials.

8. The whole system adopts automatic control, which can realize one-key start and stop, simple and convenient operation and connection with central control can realize remote control.

Application of the scene: